Choose Anker Cover and contain everything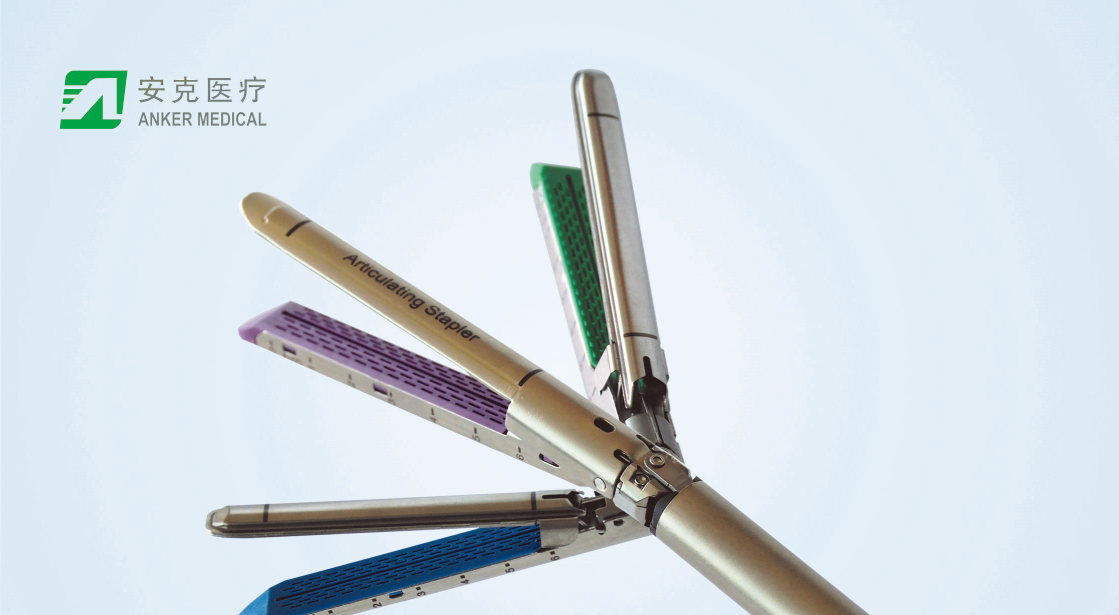 ■

Product features and benefits

● Excellent suture

Six rows of staples to ensure safe suture and consistent nail formation Complete product specifications;


● Complete specifications

A variety of components to choose from, to meet various clinical surgical needs;


● Handy

The component has a 50 ° two-way swing head and 360 ° synchronous rotation;


● Cutting sharp

The cutting blade is replaced at the same time as the staple cartridge, always ensuring sharpness;


● Cost-effectiveness bureau

Can be repeated 25 times in the same case.
■

Applicable scope of surgery

The single-use endoscopic stapler and its components are suitable for resection, transection, and anastomosis of open, or endoscopic, lung lobe, bronchus, stomach, and intestine tissues.

Thoracic Surgery

General Surgery

Obstetrics and Gynecology

●

Bullae resection

●

Stomach and colonectomy

●

Ovariectomy

●

Lobectomy

●

Gastric-jejunostomy

●

Accessory resection

●

Esophageal cancer resection

●

Liver lobe, cholecystectomy, etc.

●

Hysterectomy, etc.
■

Model

Classification

Model

Specification

Main dimensions(mm)

limit deviation
(mm)

Body length

Sleeve length

Stapler body
AKJQB-S
Short handle
280
60
±5.0
AKJQB-M
Standard type
380
160
AKJQB-L
Lengthened
480
260
Classification

Model

Color recognition

Main dimensions(mm)

Nail height

Effective nail height

Resection length

Linear components
AKJQWZ
2.5
1.0
30/45/60
3.5
1.5
4.8
2.0
Rotary components
AKJQWX
2.5
1.0
3.5
1.5
4.8
2.0
Ladder component
AKJQWT
2.0/2.5/3.0
3.0/3.5/4.0
4.0/4.5/5.0